The Value of Composite Siding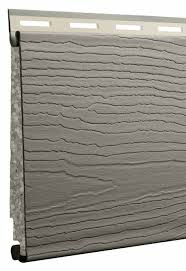 With the look of real wood siding, composite technology has brought homeowners one of today's best siding solutions. Durable, aesthetically appealing and an industry-leading lifetime warranty make composite siding a smart choice at a great value. Special care taken in the siding design gives the overall appearance of high-end cedar planks. Insulating performance is achieved in the design of the composite foam backing.
Composite siding is engineered to meet architectural standards for accent trim adding beauty to the overall home design. Composite siding is produced with an insect-repellant foam backing layer and a top fiberglass layer. Impact-resistant, fire-resistant and moisture-resistant, composite siding is manufactured with a reinforced nail hem to protect against damage from winds up to 180 mph.
Colors are available in 20 shades ranging from very dark to white. Because composite siding has an outer coating of glass fibers, the surface protects against color-fading from the sun's ultraviolet rays. The fiberglass finish, with beautiful color and wood grain look, never needs to be painted. No joint sealing or caulking is required for installation. This lightweight building material is easy to install and easy to keep clean offering homeowners a lifetime of beauty and enjoyment.